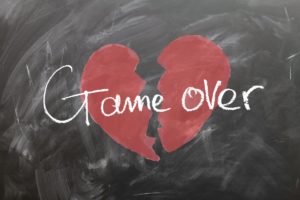 "Game over, man! Game over!" I can still picture Private William Hudson (Bill Paxton) yelling this in the movie Aliens when he realizes that  the ship meant to rescue him and his crew was destroyed. They are armed, but it doesn't matter. They are trapped. Hope is lost. They will die.
"Game over, man! Game over!" was not in the original script. Bill Paxton ad libbed it, and they kept it in. It's arguably the most memorable line in the film – because it's over for Private Hudson, but NOT for Ripley. She decides that game will NOT be over until she rescues herself and the little girl.
Aliens was filmed in 1986. Critics still list it as one of the best movie sequels of all time, and it was nominated for many Academy Awards. Yes, it had state of the art special effects and a good script and solid cast. But its worth is that its message still rings true. When do we accept defeat? When do we fight on? And who gets to decide Game Over?
You do. I do. We do. They do. It depends on the situation and the relationship. It often hinges on the question of how much can we take before we are done. How do we want to live? What will we accept? What will we fight for? Is there hope left? Is the situation fixable? There are always some choices involved.
"Game over" can be a good thing in life. It can be a rallying cry for I'm done with this part of my life and I'm moving on to something better, something safer, something more fulfilling, etc. For us "Game over" is usually not life and death – although sometimes it may feel like it – it means we will change, and our lives will change. Like Ripley, we may need to fight our way out of a bad situation, and leave our past/the game behind us. We may not know what the future holds, but we know it will be better than this.
Game over means that this chapter of my life is over and I protect myself and I take care of myself by exiting the game. By leaving, I am moving on, and I am hopeful, and I am not doomed.