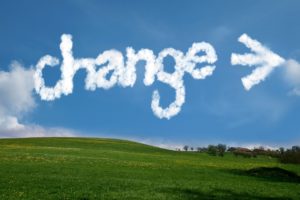 Does change come to you or do you go to change? Do you seek it out or does it seek you out? Do you take a step toward change or does it take a step towards you?
Change = "to make or become different." But how different do I want to be? How different do I want my life to be?
The expression the winds of change implies that they will blow your way at some point. They are coming for us. Ready or not. (Like it or not.) Often we think not – but we usually are more ready than we know. Or at least as ready as we'll ever be. (We likely are way past ready.)
Sometimes, we hope and pray for change. Sometimes, we dread it. Either way, change is difficult for us. Because it is the unknown. And the unknown can be scary. So we hope that the winds of change are gentle. We hope that the winds of change don't approach us as a damn hurricane.
If we embrace them as they approach, the winds won't flatten us. But the more we resist, the stronger they get. And they are coming. And they are necessary. Because they can make you look at the stormy issue that you have been ignoring. They can make you deal with the unhealthy situation that has gotten out of control. They can force you to take a good look at your darkening sky. They can blow away the emotional debris of your life to clean house. The winds of change will force catharsis. They will make us become different, and become better.
Weather the storm when the winds of change blow in. Seek help from some and refuge from others. Live one day at a time. Take one step at a time. Those who don't want you to change (for the better!) will eventually be driven off by the storm. Good. This makes room for new people and new opportunities. And changes will lead to growth.
Change may be hard, and it may or may not be welcome. But either way, it will arrive on your doorstep or blow in through your windows. It will make you pay attention to it because change usually comes to you when you need it most. And once you are different, YOU are changed, the winds will simply blow away.