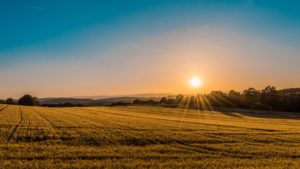 Things really do look better in the morning. They feel better. We feel better. Why? Our natural state of mind changes with the dawn. Hope returns with every sunrise.
We can bring a fresh perspective to a new day. We have had time to rest at night. Our brains have closed to the waking world. Our thoughts have turned inward. Our unconscious may have worked some things out in dreams and/or may have provided us with escape and respite from our worries. We can begin the day with more energy than we ended it.
We can bring a positive attitude to the new day. When we wake up with gratitude, we wake up ready to face the day. We can remember our blessings and count them. I start my day by opening the curtains and looking out a bedroom window that faces the sunrise. The light streams in through colored crackle glass to wish me welcome to my new day.
We can nourish ourselves with morning routines that sustain us for the day ahead. If possible, it's good to get time to yourself before the family or pets are up in full swing. Morning prayers, yoga, and a healthy breakfast start me on my day. (It wasn't always this way!) Others may start with reading, listening to music, having a cup of coffee, taking a walk with your dog or exercising….Whatever gets you moving in a positive direction, do that.
And time and energy. Sometimes we are overwhelmed at night by the scope of a problem and by other people's "crush of want" (Nick Cave). We are out of time and depleted of energy. With a new day, the problem hasn't disappeared, but it may not seem so overwhelming. What felt hopeless at night often feels better in the morning after a night's rest. We have restored our energy. We have the whole day ahead of us. We have people we can connect with and count on during the day. We have time to figure it out.
As a child and teenager, when I would be overwhelmed and crying at night, my mother used to say "It will be better in the morning." I didn't believe her. It would be the same, I thought. But she was right. And now I say the same thing to my children. And they are starting to believe me.