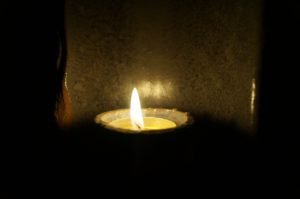 Lighting candles creates sacred space. It is an ancient ritual, and when you light a candle, the atmosphere in the room changes. The gesture elevates us. The ordinary takes on new shape with its new luminescence and the room feels different.
I learned this from a teacher I had in a continuing education class. She always brought in a little tea light, placed it next to her, and lit it at the beginning of every class. Though a small gesture, it changed the dynamics of the room. The candlelight gave us focus and encouragement as the evening proceeded with exploration of spiritual topics.
Lighting candles is a gesture of hope. We light candles to illuminate the darkness, to lift up our prayers, to ask for blessings, to ask for guidance, to acknowledge our intentions, and to remember those who have gone before us. Lighting a candle is sending out a little signal to God. Hey, I'm still here. I'm trying my best. I'm sending my little prayer up to You. Please see me.
When we light candles, it is a sign of devotion. It is a sign of renewed hope. It may be a remembrance, a prayer, a plea, or a humble thank you that we are sending out into the universe. It is our effort to create a little personal light while embracing a bigger one.
How do we bring this candle lighting ritual into our daily lives? Tea lights help. They are portable. They burn out by themselves. They are readily available. It's easy to find glass holders for them that add brilliance and color. (I'm enjoying crackle glass holders right now.) Of course for those who prefer traditional candles, there are all shapes and sizes available, too.
When we start the day by lighting a candle, we are sending out our own personal light of hope into the world. And when we end the day with the same ritual, we give reflection and gratitude to the day past. It adds sacredness to the ordinary.