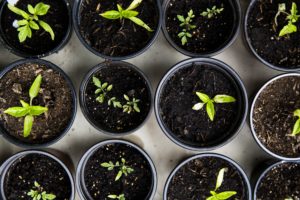 "Like a seed planted with the intention of blossoming into a beautiful perennial, a mantra can be thought of as a seed for energizing an intention. Much in the same way you plant a flower seed, you plant mantras in the fertile soil of practice. You nurture them and over time they bear the fruit of your intention." ~ The Chopra Center
A mantra is a spiritual affirmation. It is a sound, word, or phrase that is repeated. Mantras affirm what we believe or what we seek to believe. Mantras are used in prayer, in mediation, and in yoga. Yet, mantras can also be spoken silently or aloud throughout our day. Mantras center us and guide us.
Om is the most used and recognized traditional mantra. Om shanti is what I lift up these days because this mantra is a prayer for peace. We send peace out into the world as we whisper om shanti. "Om has no translatable meaning, but is believed to be the sound of the universe, referred to as the cosmic vibration. Shanti is a Sanskrit word that means 'peace,' but is also translated as 'calm' or 'bliss.'….The mantra, om shanti, therefore, calls forth the cosmic peace."
"As a greeting or parting salutation, om shanti is repeated . . . . as a way of wishing others divine peace. . . . . Two typical mantras are 'om shanti om' and 'om shanti, shanti, shanti.' The latter symbolizes three forms of peace: peace of the mind, peace in speech and peace in the physical body. It is also thought to represent hope for individual peace, collective peace and universal peace." (Yogapedia)
More modern or Western mantras take the form of affirmations. They feed your spirit as they encourage your emotional well being and spiritual growth. They are mantras too. They are guides and intentions. Think about what you repeat often to yourself. Do the words guide you to a better place? Do they help you to grow in spirit? Unsure? Google mantras. Google affirmations. Seek and use what is good and true for you. Say it often and with intention.
Be brave.