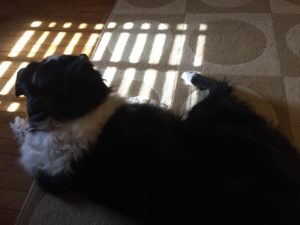 People say that you learn a lot from your old dog. Now I am one of those people. My dog is entering the twilight of his life with grace, and I'm trying to enter it with grace too. He still greets each day happy just to be here, and I am reminded (because of him) that each day is a gift. So make the most of it.
My dog is 10 1/2, which is old, but not ancient, in dog years. He has survived cancer (had a tumor removed from his leg a few years back) and lyme disease (8 years ago). Only now I have learned that lyme disease never really goes away. It has caused him nerve deterioration, and the ligaments in his back legs have slowly frayed. But I am taking my cues from him – instead of railing at fate, I am accepting that it is what it is. And we will manage it together. With grace.
Mobility and pain management are our new concerns, and my dog trusts me with his care. Every day he looks to me with his big brown eyes, and every day I rise to the occasion. I earn his trust by making his life more manageable and adjusting his living space and medication. We now have a maze of throw rugs downstairs, so he doesn't slip and fall on the wood floors. We've moved his dog bed into the living room. We carry him into the car for vet trips, and he feels safe in our arms and doesn't struggle. He takes his medicine happily because it's wrapped in treats. And walks. We can't take long walks any more, but he is still happy to go outside on very short ones. He reminds me that it is a joy just to breathe fresh air, and every day we can do that is a good day.
So what will be our parting gift to each other? That we will just be us together for as long as we can. Dear companions who have shared a family, a home, some adventures, and love. Lots of love.