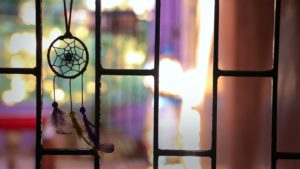 It is interesting that we call something good a "dream," but being called a "dreamer" is somewhat of a putdown.
Without dreamers, no dream would ever be given reality, and we would live in a very small and shallow world.
If you are a secret dreamer, it's your time to announce yourself.
~ Vera Nazarian, The Perpetual Calendar of Inspiration
Head in the clouds, yes. But we may be looking for rainbows where others can't see them. We've got great and vivid imaginations. Our gift is to see the storms of light and the glow of light in ourselves and in others. All the time. Empaths are born dreamers.
As sensitive children, it can be tough. We feel buffeted around by the emotions of others around us, but we don't know that yet. Sensitive and empathic children may be climbers or runners or readers or dancers or musicians or you name it. Whatever takes you up and away from the onslaught of emotions surrounding a child in their family, with their friends, or in school. Sensitive children need a reliable outlet for escape to express the swirls inside that they are feeling. So we are great daydreamers.
And adolescents. We can be emotional junkies. Seeking intense experiences, often with a sign on our backs. We may end up in places that we never planned on going to. A lot. The highs are high and the lows are low, and we begin to learn about boundaries. We recognize that we seem to have some healing energies that others may not have. We seem secret dreamers longing for a better world.
We can become practical dreamers. As adults, empaths have seen, felt, and experienced enough to understand ruin and heartache, but also hope and healing. And we want the latter for our children, our friends, our world. We stubbornly hold on to hope. Empaths have the job and the destiny to hold hope out for others too. (We often work in the helping professions.) We know your feelings, and we will hold your hand and bear witness for you as you re-group and re-dream.
Practical dreamers with one foot in the world and one in the clouds. Yes, indeed.