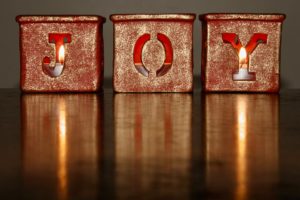 "A great feeling of delight and happiness." <-Definition of joy (Google). Yet, everyone's joy is different. What gives me joy may not give you joy  – and vice versa. Holidays are a time when how we see joy is magnified. How we see not joy is also magnified. The skill is finding what brings you joy and doing that, and knowing what does not bring you joy and not doing that. Three lessons learned about joy for the holidays ->
Lesson 1 – Worn out people do not feel joy. They just feel tired, overwhelmed, and often resentful during the holiday season. So don't be a worn out person. Take care of yourself. Sleep, eat, do something just for you, and then do all those other things that you are supposed to do. Remember that peace is supposed to be part of the holiday experience too.
Lesson 2 – Ignore the commercials. Those people are acting – and getting paid for it. It's not real people being really happy from real experiences and real presents. The premise of every commercial is carefully studied and marketed to get their biggest bang from your buck. Yes, there are some good tearjerkers, and it's human to relate to those moments. You just don't have to run out to buy "the thing." You will have those special moments anyway.
Lesson 3 – Get to the heart of the matter. Bring heart and happiness to yourself and others by spreading joy by doing things that bring you joy and then sharing those things with others. Like baking? Share your yummies with others. Like decorating? Have gatherings in your home. Like music? Play or sing with others. Like shopping? Send gifts near and far. Like contributing? Give time and/or money to charities . Like travel? Spend time with those you love in a new locale. The key is doing what YOU like, not what others think that you should like. Limit obligations and set your own agenda.
"True happiness comes from the joy of deeds well done." (Antoine de Saint-Exupery) So find your holiday bliss. Do well, be happy, spread joy, and light it up this season.